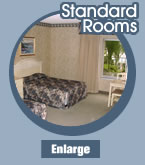 Standard Rooms
Discover the Riviera's San Remo Tower, a six-story edifice adjacent to the sparkling pool. Casual, intimate rooms feature two Double-Beds with non-smoking and pool view locations, available upon request.
We have reserved a block of guest rooms for Friday February 27th and Saturday February 28th, 2004 at the Riviera Hotel and Casino. You can make your reservation by calling1-800-634-6753 and asking for the "Washington/Lehman Wedding Rate".

The rate is $85.00 per night. Check in time is 3:00 pm and check out is at 12:00 pm. The hotel address is 2901 Las Vegas Blvd. South, Las Vegas Nevada, 89109.

The wedding and reception are not at this location, see wedding location on the first page. There is a convention in Vegas over this weekend so it may be a good idea to make your reservations early.